Backstage at the Reif Center
Katie Benes
October 2017
Welcome back to a new season at the Reif! Last year in our Back Stage series, we introduced you to a handful of familiar faces from around the Reif Center: a theater technician, loyal event-goers, one of our dance faculty, and members from both the Itasca Orchestra and Strings Program and the Grand Rapids Players. Not only was it fun to get to know each of them a little better as individuals, but it brought to light for me the many kinds of people this organization needs to fulfill its mission.
You don't know it yet, but the Reif was busy this summer working with an agency to develop our organizational brand. A number of interviews were collected trying to get at what is really important about the Reif and what is the impact it has on those who use it.
We gathered some incredible stories during that investigation, stories that made the hair on my arms stand up and caused a lump to form in my throat. I thought, "that's what I want to do with our Back Stage series this year!" I want to share with you stories of individuals who have felt transformed by what happens here, or used their experiences at the Reif as a launching pad. It's a theme that's actually pretty familiar to me, and for that reason, I thought I'd start with myself.
I'm Katie Benes. Some may remember me as Katie Henriksen. I grew up in Grand Rapids, and my parents Niels and Bonnie, have always been active in the community. My dad sang for many years with The Applechords barbershop quartet, which is the source of many of my earliest "performance-going memories" at the old Showboat landing. I also remember him performing a number of times with the Grand Rapids Players. Even at 7 or so years old, there was an immense feeling of pride and excitement to see someone I knew and loved up on stage.
My sister and I joined the Reif Center's dance program about that same time. From the outside, it was probably clear that I would never be a dancer, but I remember trying hard in my classes. Becca Cain, Mary Claire Zabinski, and Kristin Lunemann, were among the most advanced students at the time and I don't think there was a little girl in the whole program who didn't aspire to be like them! Their grace and poise was captivating and motivating.
My very first solo performance was an invitation to sing at the Reif Center for a Sweet Adeline's concert. The song itself wasn't an exceptional one, but I just can't get it out of my head! That was a big moment for me. I was nervous, but sang every word: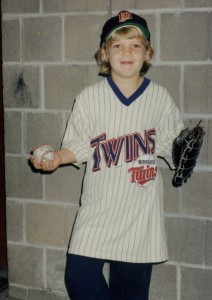 A great big lady came and sat upon it,
My baseball cap, my baseball cap.
A great big lady came and sat upon it,
My baseball cap, my baseball cap.
Christopher Columbus! What do you think of that?
A great big lady sat upon my cap.
Upon my cap, the lady sat.
My hat is broke, and that's no joke!
Christopher Columbus! What do you think of that?
These early experiences propelled me to seek out more and more opportunities for performing. I was in the chorus for a number of Grand Rapids Players musicals. I joined the band program, and later the choir program in school. I was a theater nerd in high school, going out for every possible production. The Reif Center became my playground. It wasn't just where I spent my free time, it was also where I met and made friends, where I practiced skills like confidence and expression, and where I experienced performances that sparked my imagination like few other things could.
I knew then that being a part of something like the Reif Center was what I wanted to do with my life. Honestly though, it seemed like mere luck that a position became available in 2009 just after I graduated from college. My search for similar work had not yielded a lot of other options (unless I wanted to live in the Cities – not my preference).
I'm coming up on my 8-year anniversary with the Reif Center in November. In addition to marketing our performances and programs, I've been present for some important moments in the organization's history: a number of major residencies such as the Minnesota Orchestra's Common Chords project, our 30th Anniversary celebration, a new branding initiative (you'll know more soon), and most importantly a major renovation and expansion – to name a few.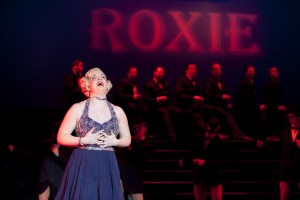 Coming back to this community has also allowed me the opportunity to get back on stage in a big way, portraying roles like Eliza Doolittle (My Fair Lady), sultry lab assistant Inga (Young Frankenstein), and Roxie Hart in a stellar production of Chicago. The Reif Center even helped a friend (Katie E. Smith) and I make-real the lifelong dream of producing Zombie Prom, the musical.
No matter what metaphoric hat I seem to be wearing at the moment, I'm continually struck by the magic of this place. I see it in our young dance and theater students taking their first steps into the spotlight. I see it in the wide eyes of performers who are frequently astounded that something like this exists "way up here." I see it in the warm hugs of friends meeting in the lobby before a show. The Reif gives vibrancy, meaning, and life, to our whole region, and I am so grateful that my story started here.
Looking forward to the next chapter. To meet more "Backstage" personalities at the Reif Center, visit our blog at reifcenter.org.