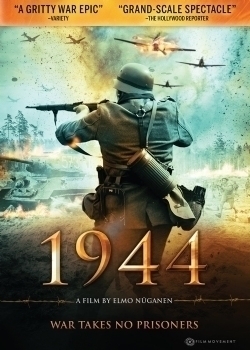 Indie Film Series: 1944
June 26 @ 7:30 pm

-

9:00 pm

|

Free
Welcome to the first public showing of Summer Independent Film Series from the Grand Rapids Area Library. Enjoy the films on a big screen in air-conditioned comfort. Once the film is shown it will be available at the library for checkout.
Estonia's official Oscar submission and a mega-hit on home turf, 1944 centers on the bloodiest battle on World War II's Eastern Front. Estonian soldiers find themselves torn between two mighty powers with some heading towards the Red Army and others finding themselves pledging allegiance to the Waffen SS. Each has their own reasons for choosing their sides they do?" some believe in a better future for their beloved Estonia, others are simply trying to survive a war. But the stage is set for a conflict in which countryman battling countryman and brother fighting brother becomes a painful inevitability. From director Elmo Nganen" the creative director of Tallinn City Theatre and one of the stars of the Academy Award nominated TANGERINES?" 1944 is a thrilling and emotional war story that shows the hopes, aims and drama of the Estonian men caught between two forces as objectively as possible. The film stars a crop of young Estonian actors alongside some of the country's most established stars including Gert Raudsep (CHERRY TOBACCO) and Mait Malmsten (KERTU).
This is a free event in the Ives Theater.

Purchase Tickets