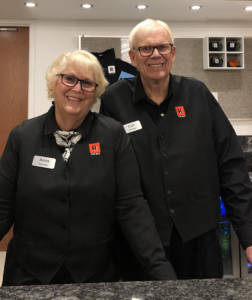 Volunteers are an essential part of bringing you Live@TheReif. Reif ushers are at the heart of a satisfying show experience. They welcome guests, help direct traffic, staff the cafe and so much more. The Reif Usher Spotlight is one way to introduce these amazing folks to the community and one way to show our appreciation.
November Usher Spotlight Curt and Anita Firman
Anita was born in Galveston, Texas and raised in New Orleans. She moved to Bloomington at age 15. Active in vocal music and theater since age 3, Anita taught most of her career in Grand Rapids school district.  Many of those years as Drama Coach in the high school and also with the Grand Rapids Players.  Anita also taught private voice and directed Children's Choirs at Zion Lutheran Church.
Curt was born and raised in Grand Rapids. He graduated in Science at Bemidji State College and worked at Blandin as Environmental Manager until retirement. Curt enjoys golf and fishing.
Both are avid Reif fans and are pleased for the opportunity to be ushering because it is a wonderful way to greet and meet people and enjoy a variety of live entertainment.