Consuming Passion |
Grand Rapids High School student, Mackenzie Jaranson, 15, has discovered the stage and there is no turning back.
"After school, I come here (The Reif) and walk onto the stage with no one else around," Jaranson said. "And it feels like my happy place. I just breathe it in. The Reif is amazing!"
Jaranson is in the ensemble, (chorus actors) in the Lion King, Jr. show, on stage March 16-18. It is her third production with the Theater Education Program led by local actor and director Jim Cagle. The program not only puts on top-notch productions for the community, its aim is to train people to explore all aspects of the theater.
It hit a bullseye with Jaranson. Although she loves acting, (she played a speaking part in the Little Mermaid show in Spring 2017), she aspires to do stage management or production assistant as a career.
"I got a taste of stage management in Suessified Christmas, (the winter show put on by the Theater Education students) and it strengthened my leadership and time management ability," Jaranson said. "Most of the actors were older than me and I had to step up and take control but also be patient. I loved it."
Feels like family
Jaranson says that when she started last year in the newly developed education program, a joint effort of The Reif and Grand Rapids Players, she only knew one person, Moriah Alger. Alger is playing Rafiki in the Lion King, Jr. show. Alger was the one who coaxed Jaranson to join the program.
"I didn't want to go alone," Alger said. Now both girls have continued to enroll with each opportunity. Making friends and challenging themselves is the highlight of their experience.
The influence of peers is exactly why so many kids have joined the shows. That was certainly the case for new-comer Aaron McMullen, 8, whose eyes were opened to possibilities when he helped his dad move set props behind the scenes in Little Mermaid.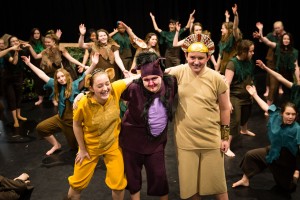 "My dad was running the curtains and asked me to come along," McMullen said. "I got to move a rock out on the stage at different times."
McMullen said he overheard the kid-actors talking about the fact that they knew their lines and everyone else's so well they could even switch parts.
"But they didn't do it," McMullen conceded. "But I thought that I'd like to be part of this too."
As an ensemble member, McMullen doesn't have a main speaking role this time but that is his goal. Considering he has had experience last year, "At my school as an Elvis impersonator."
All three students lauded how much they are learning, from expressions, movement and stage blocking to working through stage fright. In the end, they agree on their favorite part. They love the exhilaration of being on stage and hearing the applause, being in the spotlight.
"When I'm out there taking a bow," said Jaranson. "I'm all out of breath like I just crossed the finish line from a marathon. I'm hooked."
Lion King, Jr. is on stage at the Wilcox Theater Friday, March 16 through Sunday, March 18. More than 50 students round out the cast and crew.
Cast:
Rafiki – Moriah Alger
Mufasa – Jacob Anderson
Sarabi – Lexi Korhonen
Zazu – Kaytla Rahko
Scar – Ben Carpenter
Young Simba – Austin Anderson
Young Nala – Ella Gunnerson
Sarafina – Rose Carpenter
Shenzi – Autumn Bisbee
Banzai – Charli Seelye
Ed – Gretchen Beckrich
Timon – Annie Beyer
Pumbaa – Glen Key
Older Simba – Tracee McMartin
Older Nala – Megan Gunnerson
Ensemble
Senja Alger, Anja Beck, Anders Borgman, McKayla Cagle, Hannah Clark, Paul Davis,
Jaiden Fairchild, Caroline Francis, Torri Gunderson, Bradley Hewitt, Shea Huffman,
Adisyn Jaranson, Makenzie Jaranson, Abbey Karnes, Libby Lauer, Eiley Lien, Riley Linnell, Sigrid Jewett, Lydia Mariano, Aaron McMullen, Olivia Montag, Anders Morque, Danie Neuhaus, Nicole Neuhaus,
Sam Neuhaus, Brook Payne, Kaden Pennertz, Jaden Pero, Brianna Peterson, Becker Pierce,
Karolina Rahko, Kaela Ringold, Sophia Ringold, Audrey Rozowzski, Ayden Schauer, Hunter Seabolt,
Riley Stovall, Morgan Tinquist, Aubrey Vonhagen, Riley Wick
Backstage Crew
Dylan Haines, Summer Hansen, Emma McMullen, Maggie Seekon, Grace Sevigny, Laura Snow
Directed by: Jim Cagle
Assistant Director: Josh Cagle
Musical Director: Rachel Coppock
Sound/Lights: John Miller
Set: Buzz McCullock
Costumes: Sharon Marty