Student Exhibition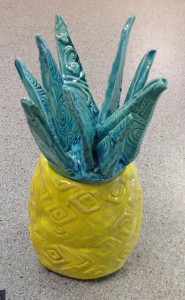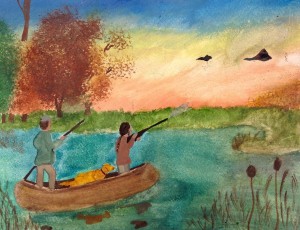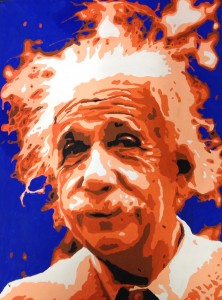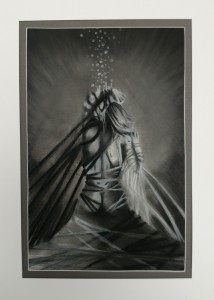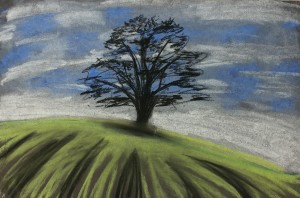 Grand Rapids High School
Ryan Corfits
Artwork displayed from 9th-12th grade students in Mr. Corfits' classes cover four courses: "Basic Art," "Representational Drawing and Painting," "Conceptual Drawing and Painting," and "3-D Sculpture."  A variety of work has been explored, and some lesson examples picked for display include: Symbolic Self Portrait Drawings, Symbolic Self Portrait Sculptures, Graphite Still-Lifes, Negative-Space Tree Drawings, Chalk Pastel Trees, Conceptual Tree Metamorphosis, Painted Song / Lyric Interpretation, One Point Perspective Bedrooms, Landscape Paintings, and Signature/Monogram Zentangle Designs.  In all these projects, students purposefully engaged in the creative process, learned technical skills and conceptual understanding, considered their subject matter and content, engaged in critical thinking and verbal explanation, while integrating creativity and compositional theories.
Conceptual Drawing & Painting: Lyric, Quote, Poem Interpretation

16×20 Acrylic Painting
Alex Boe
Angel Cronkhite
Brenna Brastad
Realistic Drawing & Painting: Landscape
16×20 Acrylic Painting
Tattum Villeneuve
Gavin Decker
Dixie Love
Josh Dahlgren
Victor Romanik
Mercedes Krumrei
Emily Trast
Seleena Baumgartner
Samantha Bird
Realistic Drawing & Painting: Still Life
8×10 Pencil on paper
Mercedes Krumrei
Jenna Wersal
Emileigh Latvala
Kendra Conner
Mahri Nelson
Alannah Wilson
Samantha Bird
Gabbi Henke
Intro to Art: One Point Perspective Bedrooms

Ink, watercolor pencil on paper
Conner Flohaug
Josh Barboza-Parr
Brianna Sutherland
Kendra Conner
Zachary Benson
Cam Persons
Symbolic Self Portrait:
Kendra Conner
Mercedes Krumrei
Alex Bergren
Avery Beyer
Alex Boe
Angel Cronkhite
Brie Chappie
Dixie Love
Intro to Art: Zentangle
Amber Kemppainen
Kendra Conner
Anna Geislinger
Miranda Rasmusson
Tayler Millsap
Conceptual & Realistic Drawing & Painting: Negative Space Tree Drawing
Angel Cronkhite
Avery Beyer
Gabbi Henke
Dixie Love
Miranda Mayo
Emily Trast
Brianna Chappie
Conceptual: Tree Metamorphosis

Black & white charcoal
Brenna Brastad
Alex Boe
Angel Cronkhite
Realistic Drawing & Painting: Chalk Pastel Trees
Sydney Olds
Mercedes Krumrei
Emily Trast
Ciara Dornhecker
Gabbi Henke
Jenna Wersal
Dixie Love
Symbolic Self Portrait Sculpture
Abagail Bauman
Morgan Bischoff
Alex Boe
Anna Bonner
Kate Bustrom
Mara Cameron
Jake Gilhousen
Chanler Lokken
Hannah Roth
Haley Soltis
Breanna Winkler
Grand Rapids High School
Christy Cole
The artwork exhibited represents multiple course offerings at Grand Rapids Senior High School, and the importance of art education. The students are able to study many different concepts, artistic styles and mediums throughout the school year including color theory, abstraction, Cubism, Symbolism, portraiture and more. Through the study of art, students learn that questions can have more than one answer. The arts enable students to express themselves in a unique way and see that there are many different perspectives and interpretations of the world around them. It is great to live in a community that is so supportive of the arts and art education. We are grateful for this opportunity for students to share their artwork with a larger audience.
Basic Painting

Creative Color Wheel:
Levi Winkels
Morgan Bischoff
Paige Vrendenburg
Alanna Krogerson
Andrew Holtz
Cheyenne Johnson
Ana Carolina Scandelari
Aaliyah Livingston
Taylor Grose
Jenna Olson
Marissa Rossi
Alaina Margo
Pointillism Project:
Madyson Shaffer
Cubism Project
:
Thomas Schmoll
Alison Daigle
Billi Brodzinski
Jessica Bowers
Self Portrait Project:
Faith Allen
Peyton Beyer
Tyara Bischoff
Olivia Hanson
David Holtz
Basic Art

Dot Contrast Project:
Alaina Beaver
Madison Krumrei
Preston McNamar
Elizabeth Bird
Annika Viren
Teigan Krueger-Barth
Ethan Jones
Tessellation Project:
Teagan Provinzino
Dimitri Persons-Nelson
IB Studio Art
Madison Waech
Robert J. Elkington Middle School
Nicole Lehtinen
Over fifty students from Mrs. Lehtinen's 8th grade art classes and Mrs. Martinetto's 5th grade classes at Robert J. Elkington Middle School were selected for the Grand Rapids Middle and High School Student Art Show. The four 8th grade art projects featured are: Greek Functional Clay Forms, Pop Art Portrait Tempera Paintings, Impressionist Landscape Watercolor Paintings, and Regional Animal Relief Prints. The two 5th grade art projects featured are: Complementary Fruit Tempera Paintings and Clay Teacups and Saucers. All students gained knowledge and skills in a standards-based art curriculum including art foundation concepts, creation techniques, presentation aesthetics, and critique vocabulary.

5th Graders
Complementary Fruit Tempera Paintings:
Corbin Sulzbach
Alex Klous
Clay
Teacups and Saucers:
Isabella Hass
Molly Pierce
Katie James
Chloe Trunt
8th Graders
Greek Functional Clay Forms:
Hailey LaFrenier
Haley Vredenburg
Chaz Adamson
Steve Lahti
Grace Fannin
Isaiah Edel
John Bonner
Katrina Ramsayer
Cortnee Speckel
Trevor Johnson
Alia Kuutti
Karissa Bissonette
Makalia Riendeau
Brianna Hilton
Pop Art Portrait Tempera Paintings:
Noelle Gunderson
Anika Kaldahl
Zach Nichols
Belle Watson
Kyle Ledermann
Natalie Dreke
Abby VanDien
Grace Boedigheimer
Olivia Salmela
Erica Benolken
Kira Johnson
Grant Giffen
Jenny Bowman
Impressionist Landscape Watercolor Paintings:
Kylie Hostetter
Katy Wilson
Kate Kunz
Audrey Bestland
Ally Benson
Lauren Huso
Grace Volkmann
Courtney McCoy
Ben Bonner
Nic Langlois
Kenzie Cole
Tana Erola
Rilea Eckenberg
Regional Animal Relief Prints:
Reese Stephens
Aubri Stejskal
Liz Gilhousen
Maddie Peterson
Landon Tubbs
Raina Froehlich
Kale Florek
Leah Komula
Jillian Petz
Claire Walsh
Hullean Fairchild
Maddy Porter